Mansaku-no-kai
Kyogen Company
The Mansaku-no-Kai Kyogen Company was founded by Mansaku NomuraⅡ, and is now led by Mansaku and his son, MansaiⅡ―members of an illustrious theatrical line that boasts a 250-year history.
Since the company's first tour abroad to the Paris International Theater Festival in 1957, Mansaku has been a pioneer in sharing the art of Kyogen with international audiences, giving performances and lectures throughout the world.
Continuing his father's mission, Mansai not only performs Kyogen extensively, but is also committed to exploring further possibilities of Kyogen as a contemporary performing art.
Mansaku Nomura is a Living National Treasure of Japan.
Two members of Mansaku-no-Kai―Mansai Nomura and Yukio Ishida―are designated Holder of Important Intangible Cultural Property : Nohgaku.

About Kyogen
Along with Noh, Bunraku, and Kabuki, Kyogen is one of the four representative classical theatre arts of Japan.
Kyogen is a form of medieval popular comedy which arose in the Kyoto area contemporaneously with Noh in the early 14th century.
Rather like Italian Commedia dell'arte, it started as a crude impromptu theatre with no fixed texts or identifiable authors.
By the mid-14th century, however, it had become customary for Noh performers to program Kyogen pieces in between five of their own plays.
As a further sign of integration, the main Kyogen actor also played the role of "ai" ("comic relief") in the middle part of a Noh play.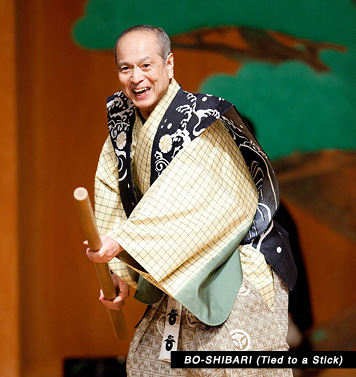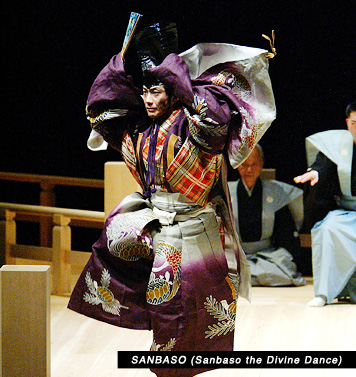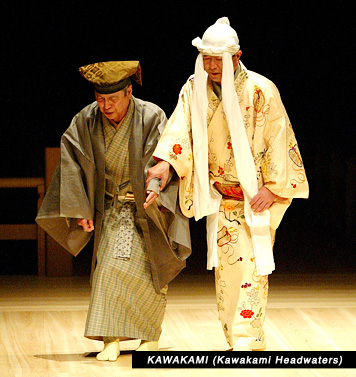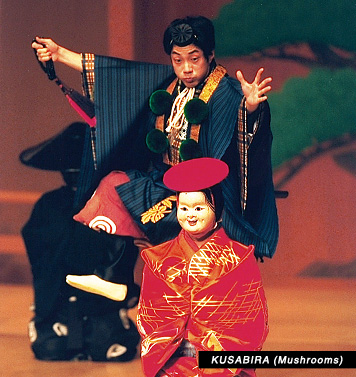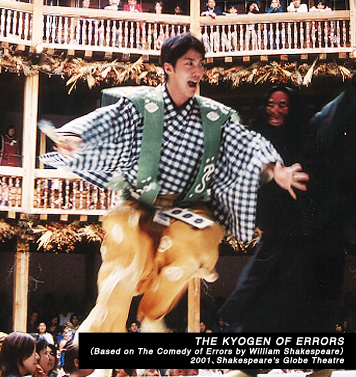 Mansaku Nomura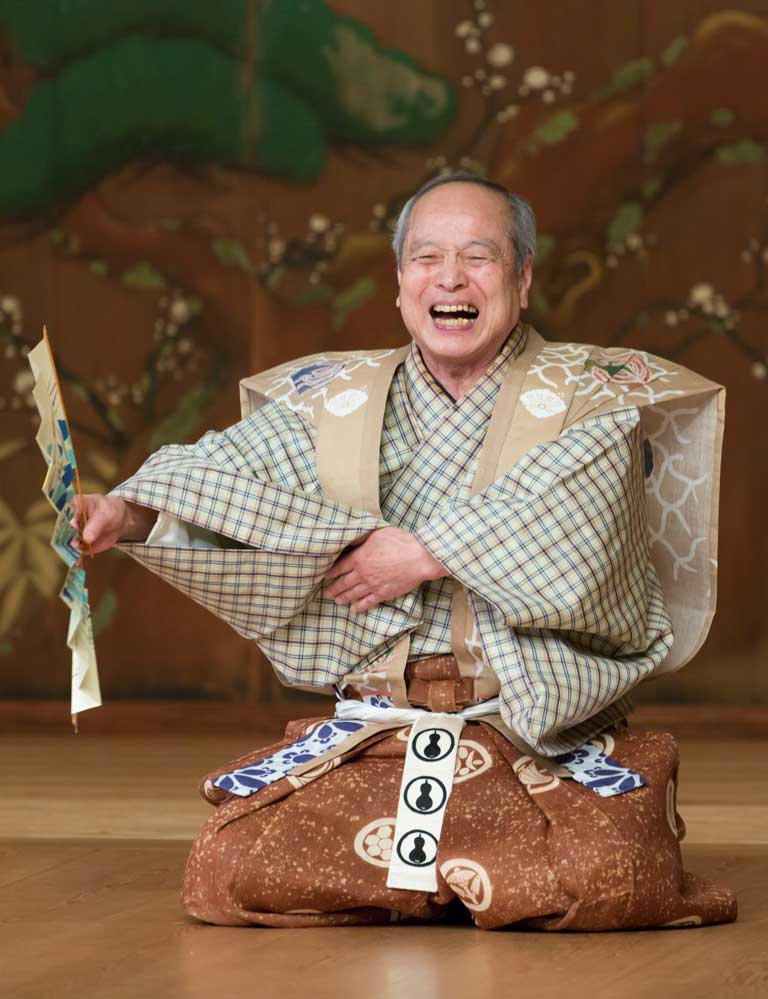 Mansaku Nomura
Profile
Mansaku Nomura is a Living National Treasure of Japan.
Born in 1931 as the second son of the late Manzo Nomura VI, who was also a Living National Treasure, he studied Kyogen under his grandfather, Mansai Nomura I and his father, Manzo.
At the age of three, he made his stage debut in the role of Little Monkey in Utsubozaru.
He studied Japanese literature at Waseda University.
Since graduation, Mansaku has been an outstanding leader in the Kyogen world and has brought new ideas into the art form.
Along with such important traditional Kyogen pieces at Tsurigitune, his representative works include Pierrot Lunaire, Shigosen no Matsuri ("The Rite of Meridian") by Junji Kinoshita, and Shukoh with Zhang Ji qing.
His recent directing credits include The Braggart Samurai, based on Shakespeare's The Merry Wives of Windsor, which toured to Hong Kong and Adelaide.
He has extensively led Kyogen workshops throughout the world since 1957.
Workshops at U.S. universities include those given at University of Washington, University of California at Berkeley, and University of Hawaii as a visiting professor.
After recent performances abroad at Piccolo Teatro di Milano, Chang An Grand Theater in Beijing, and National Theatre of Korea, Mansaku is happy to return to the Kennedy Center where he had performed during the JAPAN! culture+hyperculture festival in 2008.
Mansaku Nomura has garnered numerous awards, including the Asahi Prize, Grand-prix of Art Festival run by the Agency for Cultural Affairs of Japan, Tsubouchi Shoyo Prize, Kinokuniya Theatre Award, and awards from the Japanese government, including the Purple Ribbon Medal and the Order of the Rising Sun, Gold Rays with Rosette.
Mansai Nomura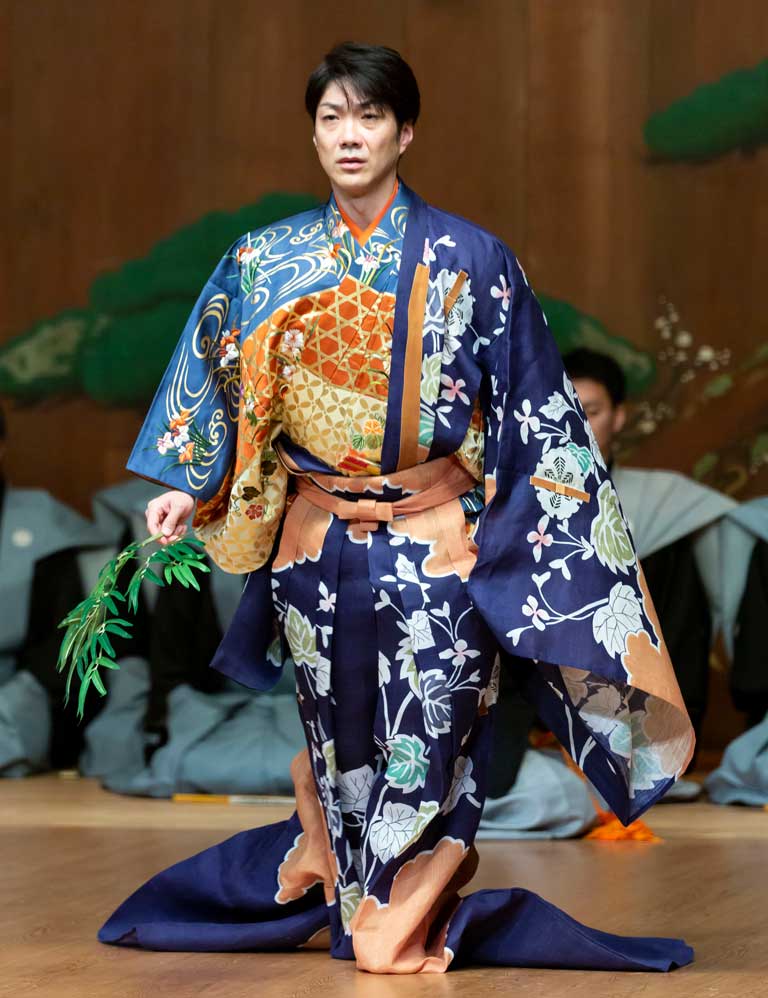 Mansai Nomura
Profile
Born in 1966, Mansai NomuraⅡstudied under his father MansakuⅡand his late grandfather ManzoⅥ (both Living National Treasures of Japan).
He made his stage debut at the age of three.
His stage performances range far beyond that of traditional Kyogen and Noh actors―he also plays the title roles of such Greek tragedies or Shakespearean plays as Oedipus directed by Yukio Ninagawa and Hamlet directed by Jonathan Kent.
He also starred in such celebrated Japanese movies as Ran by Akira Kurosawa and Onmyoji by Yohjiro Takita.
Beside his exuberant acting career, he is committed to directing plays that merge the classics and the contemporary, east and west, and his talent is always attracting both public and critical attention.
Beside The Kyogen of Errors, which toured to London Globe Theatre in 2002 and the U.S. in 2005 and 2008, his directing credits include Macbeth, The Country Stealer aka Kuni-nusu-bito (adapted from Richard Ⅲ), In a Thicket aka Yabu no Naka, Mirror Servant aka Kagami-kaja, and the award-winning Atsushi (adapted from Atsushi Nakajima's Sangetsuki and Meijinden), of which his direction and composition won Asahi Performing Arts Award and Kinokuniya Theatre Award 2005.
He has received National Arts Festival New Artist Award, and Excellence Award (2012, 2018), and The Ministry of Education's Art Encouragement Prize for New Artists.
He is Holder of the Important Intangible Cultural Property : Nohgaku.
He has been the Artistic Director of Setagaya Public Theatre since 2002.
He recently starred in The Floating Castle(Nobou No Shiro), a film directed by Isshin Inudo and Shinji Higuchi was released on 2012.
Visited Countries
Europe
Austria

(1965)

Denmark

(1972・1985)

Finland

(1985)

France

(1957・1972・1976・1981・1994・1997・2004・2011・2018)

Germany

(1965)

Greece

(1965)

Italy

(1965・1972・2009)

Soviet Union

(1989)

Sweden

(1985)

United Kingdom

(1976・1991・1994・2001)

Yugoslavia

(1972)
Asia
Australia

(1985・1994)

China

(1976・1982・1983・1989・1991・1999・2001・2004・2009・2011・2018・2019)

India

(1966)

Korea

(2010)

Philippines

Singapore

(1985・2014)

New Zealand

(1994)

Malaysia

(2012)

Viet Nam

(1998)
America
Canada

(1968・1971・1975)

Mexico

(1975)

United States

(1963・1968・1971・1974・1975・1980・1981・1982・1983・1984・1986・1988・1989・1992・1997・2003・2005・2007・2008・2012・2015・2017)